Be updated, subscribe to the OpenKM news
Productivity software

Written by Ana Canteli on June 23, 2023
In today's digital era, where information is generated and shared quickly, efficient document management has become a key challenge for companies. Document management software has become an essential tool to improve productivity by offering practical solutions to organize, store, and access documents quickly and safely. There is now productivity software, Which are applications or programs designed to help users be more efficient and effective in their daily work. These software tools streamline time, improve organization, facilitate collaboration, and increase productivity.
Document management software can be considered a productivity solution. Document management refers to managing, organizing, and controlling documents efficiently in an organization. Document management software helps to digitize, store, organize, search, and collaborate on documents more efficiently, improving any organization's productivity in terms of information access, collaboration, workflow, etc. This article will explain how document management software can boost organizational productivity.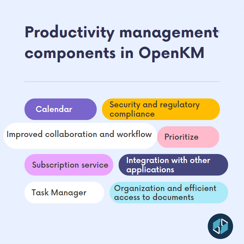 Organization and efficient access to documents
One of the main benefits of document management software is its ability to organize documents in a structured way. By assigning categories, keywords, and metadata to files, OpenKM's document management software enables fast and accurate searches, saving time and preventing the loss of important information. In addition, the centralization of documents in a digital repository facilitates access from any location and device, eliminating the need to search for documents in scattered filing cabinets or directories physically. Users can access the information they need with just a few clicks, speeding up business processes and optimizing decision-making.
Improved collaboration and workflow
OpenKM's document management software encourages effective collaboration among team members. Allows you to share documents securely, set access permissions, and control file versions. This facilitates collaborative work in real-time since several users can edit a document simultaneously, add comments and keep track of the modifications made. In addition, the OpenKM document management software allows you to establish automated workflows to approve and review documents, streamlining processes and reducing bottlenecks and even the incidence of human errors. Automatic reminders and change notifications keep all team members up to date and ensure deadlines are met.
Security and regulatory compliance
Document security is of vital importance to businesses. OpenKM's productivity system provides advanced security options to protect sensitive documents and restrict access to confidential information. Encryption, authentication, and permission control capabilities ensure that only authorized people can access, modify, and share documents. Additionally, OpenKM productivity software helps businesses comply with data privacy regulations and regulations by logging and auditing document-related activities, making it easy to generate reports and demonstrate regulatory compliance.
Integration with other applications
Efficient productivity software can be integrated with other applications used in the business environment, such as office suites, email tools, and project management systems. This integration enables a smoother workflow and increased productivity, as users can access and edit documents directly from the applications they frequently use without constantly switching platforms. OpenKM offers complete API and web services to facilitate any OpenKM integration project in the software suite of any organization.
Productivity management components in OpenKM
As we have said, OpenKM is a productivity solution for any organization. Below, we will highlight the functionalities included in the OpenKM document management system that stand out as a solution to improve productivity:
Online editing: Many users generate documents using widely used office suites. Thanks to OpenKM Live Edit, users will be able to edit office documents hosted on OpenKM. They can even decide to start creating a file locally and, through the OpenKM MS-Addins, upload the files to the document manager.
Task Manager and Calendar: OpenKM includes a work area designed to allow users to schedule events, create reminders and meetings, to manage their schedules efficiently.
Notes and organization: in OpenKM, you can add and consult annotations linked to the contents, available in the properties' panel of each folder, record, email, or document. Even though the forum extension, you can converse and share ideas about any business content within OpenKM.
Communication and collaboration tools: functionalities such as keywords, categories, metadata, notes, automation, workflows, and reports; Apart from the Forum as mentioned above or the OpenKM Task Manager, they act as communication tools that improve the conditions and performance of collaboration between members of an organization.
Time management: The workflow engine included in OpenKM and the Task Manager cover this need. On many occasions, organizations devise workflows to increase the efficiency of workflows. Users must comply with their obligations within a previously established time horizon. When we create a task in OpenKM, the form includes start and end dates and times that help the members of any event to organize and prepare the work.
In a highly competitive business environment, productivity is critical for success. Document management software has become essential to improve productivity by optimizing the organization and access to documents, fostering collaboration among team members, ensuring information security, and complying with regulations. By implementing efficient document management software such as OpenKM, companies can experience greater efficiency in their processes, better data-based decision-making, and greater agility in information management. Ultimately, this contributes to greater competitiveness and long-term business success.