OpenKM Worldwide Network
Since 2005, OpenKM has excelled in the market for its document management standards and Open Source technologies because it is adapted to the needs of each of its customers and their issues in terms of document management in the company.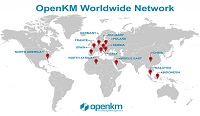 During these fourteen years, we have grown from a small team of enthusiastic developers to a vast network of subsidiaries and partners in all continents.
Our extended stay in business is a guarantee to our customers. OpenKM strives for providing a World Class Customer Service.
OpenKM complies with the demanding security norms of the American and European Unions as well as other countries.
Some data about OpenKM:
More than 70,000 installations worldwide.
A monthly average of 7,000 downloads of the Community version.
Translated into 39 languages.
More than 20,000 members in the community.
30 partners in the development of the application.
Referral in Google as a document management system, appearing in the top positions.
Partners in all continents.